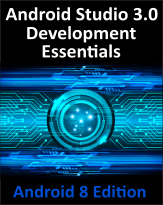 Android Studio 3.0 Development Essentials - Android 8 Edition was published on September 22, 2017. The current revision is 1.0. The revision of your copy of the book can be found in the copyright page at the start of the book.
Section 2.6.3 - Windows 10
On recent updates to WIndows 10, the Advanced system settings option has moved and can be located using the following steps:
1. Right click on the Start menu.
2. In the Settings screen, select the About option from the right-hand panel.
3. On the about screen, scroll down to and click on the System info link.
4. On the System info screen, select the Advanced system settings option.

27.3 Implementing the Listener Class
The first code listing in this section should have shown the following lines in bold indicating that the lines needed to be added to the class file:
       implements GestureDetector.OnGestureListener,
       GestureDetector.OnDoubleTapListener

Section 51.9 - Bundled Notifications
The incorrect image was included for Figure 51-13. The figure should have appeared as follows: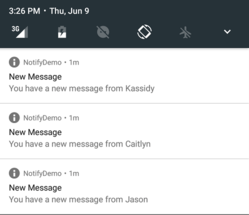 If you have encountered an issue with the book not listed above please contact us as at [email protected] and we will work to resolve the issue for you as quickly as possible.