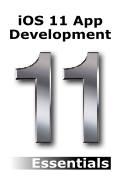 iOS 11 App Development Essentials, the latest edition of this popular book series, has now been fully updated for the iOS 11 SDK, Xcode 9 and the Swift 4 programming language.
This publication is available for purchase in print and Kindle editions. The print edition consists of 100 chapters and includes a free download of the color PDF of the book with 16 additional chapters. The Kindle edition contains all 116 chapters.
Beginning with the basics, this book provides an outline of the steps necessary to set up an iOS development environment. An introduction to the architecture of iOS 11 and programming in Swift 4 is provided, followed by an in-depth look at the design of iOS applications and user interfaces.
Additional features of iOS development using Xcode are also covered, including Swift playgrounds, universal user interface design using size classes, app extensions, Interface Builder Live Views, embedded frameworks, collection and stack layouts and CloudKit data storage. The key new features of iOS 11 and Xcode 9 are also covered in detail, including Swift 4, drag and drop integration and the document browser.