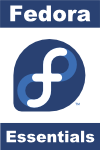 The Fedora Linux distribution combines the very latest, cutting edge technology with the backing of Red Hat, one of the leading providers of enterprise level Linux solutions. If you want the latest Linux features then Fedora may well be the operating system for you, and Fedora Essentials is the eBook that tells you everything you need to know about how to install, configure and use Fedora.
Fully updated for Fedora 13, topics covered in Fedora Essentials include basics such as installation, display and desktop configuration, wireless networking setup and firewall configuration. More advanced topics include disk drive configuration, logical volume management, remote desktop access from anywhere in the world and virtualization using both Xen and KVM.
This purchase includes the eBook in both PDF and ePub formats.
Product Details
Page Count:
256
Page Size:
8.50 x 11.00
Language:
English
Format:
ePub and PDF
Price:
$9.99
eBook Contents
Installing Fedora Linux on a Windows System (Dual booting)
Allocating a Windows Disk Partition to Fedora Linux
Create Your Own Fedora Distribution with Revisor
Logging into the Fedora GNOME Desktop
Configuring Fedora GNOME Screen Resolution, Orientation and Multiple Monitors
A Guided Tour of the Fedora GNOME Desktop
Changing the Fedora GNOME Desktop Background
Installing and Customizing Fedora Desktop Themes
Configuring Fedora Desktop Fonts
Configuring the Fedora Desktop Panels
Configuring the Fedora Desktop Menu System
Enhance your Fedora Desktop with gDesklets
Browsing My Computer, Files and Folders on the Fedora Desktop
Configuring the Fedora File Manager
Fedora Desktop - Starting Applications on Login
Fedora Desktop Keyboard Shortcuts
Managing Fedora Linux Users and Group
Configuring Fedora Linux Wireless Networking
Basic Fedora Linux Firewall Configuration
Remote Access to the Fedora Linux Desktop
Configuring Fedora Linux Remote Access using SSH.
Displaying Fedora Linux Applications Remotely (X11 Forwarding)
Sharing Fedora Linux Folders with Remote Linux and UNIX Systems
Sharing Fedora Linux Folders with Remote Windows Systems
Configuring a Fedora Linux Based Web Server
Configuring a Fedora Linux Email Server
Configuring a Fedora Linux Mail Client (Evolution)
Sending and Receiving GMail Email on a Linux System
Installing and Configuring Fedora Xen Virtualization
Managing and Monitoring Fedora based Xen Guest Systems
Managing Xen using the xm Command-line Tool
Installing and Configuring Fedora KVM Virtualization
Installing a KVM Guest OS from the Command-line (virt-install)
Running Windows on Fedora Using KVM Virtualization
Managing and Monitoring Fedora based KVM Guest Systems
Adding a New Disk Drive to a Fedora Linux System
Adding a New Disk to a Fedora Volume Group and Logical Volume