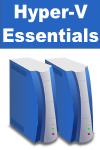 Whilst the initial implementation of virtualization can be traced back to IBM mainframe systems in the 1960s, there is no denying the fact that virtualization is only now taking the information technology industry by storm. Requirements to reduce costs through maximized server utilization and minimized power consumption have converged to highlight the importance of virtualization in ways that could not have been imagined just a few years ago.
A number of large vendors (Citrix, VMware and Oracle/Sun Microsystems to name just a few) have entered the virtualization space either through product development or company acquisition. No entry into the market has been more widely anticipated, however, than the arrival of Microsoft's Hyper-V technology.
Released in 2008 and bundled at no extra charge with Windows Server 2008, Hyper-V has quickly gained widespread adoption and favorable reviews.
Hyper-V Essentials is an in depth technical book designed teach both IT staff and students about the implementation of virtualized environments using Hyper-V technology. Topics covered include an overview of the Hyper-V architecture and components, Hyper-V role installation, the creation, management and migration of virtual machines, virtual networking architecture and remote access to virtual machines.
This purchase includes the eBook in both PDF and ePub formats.
Product Details
Page Count:
80
Page Size:
8.50 x 11.00
Language:
English
Format:
PDF and ePub
Price:
$8.99
eBook Contents
An Overview of the Hyper-V Architecture
Hyper-V System Requirements
Installing the Hyper-V Role
A Tour of the Hyper-V Manager Tool
Understanding and Configuring Hyper-V Virtual Networks
Creating Hyper-V Virtual Machines
Configuring Hyper-V Virtual Machines
Creating and Configuring Hyper-V Virtual Hard Disks (VHDs)
The Hyper-V Virtual Machine Connection Tool
Creating and Managing Hyper-V Snapshots
Migrating Hyper-V Virtual Machines Using Import/Export
Understanding and Installing Hyper-V Integration Services