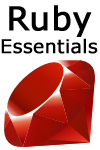 Ruby is a flexible and intuitive object-oriented programming language. From modest beginnings in Japan where it rapidly gained a loyal following, the popularity of Ruby has now spread throughout the programming world.
This surge in popularity can, in no small part, be attributed to the introduction and wide adoption of the Ruby on Rails framework. It is difficult, however, to get the most out of Ruby on Rails without first learning something about programming in Ruby, and this is where Ruby Essentials comes in.
Ruby Essentials provides a concise and easy to follow guide to learning Ruby. Everything from installing Ruby and the basics of the language through to topics such as arrays, file handling and object-oriented programming are covered, all combined with easy to understand code examples which serve to bridge the gap between theory and practice.
Ruby Essentials is designed to be of equal use both to those experienced in other programming languages and to novices who have chosen Ruby as their "first programming language".
Purchase includes eBook in both PDF and ePub formats.
Product Details
Page Count:
115
Page Size:
8.50 x 11.00
Language:
English
Format:
PDF and ePub
Price:
$8.99
eBook Contents
What is Ruby?
Getting and Installing Ruby
Simple Ruby Examples
Commenting Ruby Code
Understanding Ruby Variables
Ruby Variable Scope
Ruby Number Classes and Conversions
Ruby Methods
Ruby Ranges
Understanding Ruby Arrays
Advanced Ruby Arrays
Ruby Operators
Ruby Operator Precedence
Ruby Math Functions and Methods
Understanding Ruby Logical Operators
Ruby Object Oriented Programming
Ruby Flow Control
The Ruby case Statement
Ruby While and Until Loops
Looping with for and the Ruby Looping Methods
Ruby Strings - Creation and Basics
Ruby String Concatenation and Comparison
Ruby String Replacement, Substitution and Insertion
Ruby String Conversions
Ruby Directory Handling
Working with Files in Ruby
Working with Dates and Times in Ruby