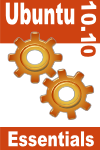 According to Linux.org, there are over 200 different Linux distributions available. Many of these are actively maintained and have a loyal following and some have yet to gain popularity. Some Linux distributions are quite new and some have been around for a very long time.
One Linux distribution in particular that has appeared relatively recently is Ubuntu. Despite being a relative newcomer to the Linux distribution landscape, Ubuntu has very quickly gained prominence in what is clearly a very crowded field. Ubuntu routinely tops the Linux distribution page ranking on DistroWatch.com, and has been selected by Dell and other vendors as the Linux to be pre-installed in select systems. Perhaps the most significant achievement for Ubuntu, however, is that it is popular not just to Linux novices, but also with Linux experts, a group of people known for being hard to please and impress.
The purpose of this book is to provide the essential knowledge required to install, use and maintain an Ubuntu 10.10 system. Beginning with the basics this book covers the history of Linux and Ubuntu, installation from CDROM and USB flash drive, dual boot configuration, configuring the desktop and implementing wireless networking.
Subsequent chapters cover topics such as disk partitioning, configuring a firewall, setting up a web server, enabling email access, adding disk drives and swap space, configuring KVM based virtualization, providing remote desktop access via an SSH tunnel, X11 forwarding, printer configuration, user and group administration and Windows resource sharing.
Consisting of 40 chapters of practical examples and detailed content, Ubuntu 10.10 Essentials takes a thorough step by step approach to installing, using and administering Ubuntu 10.10.
This purchase includes the eBook in both PDF and ePub formats.
Product Details
Page Count:
228
Page Size:
8.50 x 11.00
Language:
English
Format:
PDF & ePub
Price:
$9.99
eBook Contents
About Ubuntu Essentials
The History of Ubuntu
How to Download and Try Ubuntu
Performing a Clean Ubuntu Installation
Installing Ubuntu on a Windows System (Dual booting)
Installing Ubuntu on a Windows Disk with Wubi
Allocating a Windows Partition to Ubuntu
Logging into the Ubuntu GNOME Desktop
A Guided Tour of the Ubuntu GNOME Desktop
Ubuntu Screensaver, Desktop Lock and Power Management Configuration
Changing the Ubuntu GNOME Desktop Background
Installing and Customizing Ubuntu Desktop Themes
Configuring Ubuntu Desktop Fonts
Configuring the Ubuntu Desktop Panels
Configuring the Ubuntu Desktop Menu System
Ubuntu Desktop Visual Effects
Configuring Ubuntu Wireless Networking
Browsing My Computer, Files and Folders on the Ubuntu Desktop
Configuring the Ubuntu File Manager
Ubuntu Desktop - Starting Applications on Login
Ubuntu Desktop Keyboard Shortcuts
Configuring Ubuntu Printers
Connecting an Ubuntu System to a DSL Modem
Ubuntu Firewall Basics
Using Firestarter to Configure an Ubuntu Firewall
Managing Ubuntu Users and Groups
Configuring Ubuntu Remote Access using SSH
Remote Access to the Ubuntu Desktop
Displaying Ubuntu Applications Remotely (X11 Forwarding)
Configuring an Ubuntu Based Web Server
Sharing Ubuntu Folders with Remote Linux and UNIX Systems
Sharing Ubuntu Folders with Remote Windows Systems
Configuring an Ubuntu Mail Client (Evolution)
Sending and Receiving GMail Email on an Ubuntu System
Adding a New Disk Drive to an Ubuntu System
Adding and Managing Ubuntu Swap Space
Installing and Configuring Ubuntu KVM Virtualization
Creating an Ubuntu KVM Networked Bridge Interface
Installing an Ubuntu KVM Guest OS from the Command-line (virt-install and virsh)
Managing and Monitoring Ubuntu based KVM Guest Systems