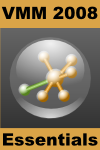 In 2009 Microsoft introduced the highly anticipated Hyper-V virtualization technology. Hyper-V is supplied with the Hyper-V Manager for performing basic administration tasks. For full scale enterprise level virtualization infrastructure management, however, the Virtual Machine Manager (VMM) 2008 is the tool of preference.
VMM 2008 Essentials is an eBook dedicated to providing a detailed overview of the installation and subsequent use of VMM 2008 to perform a wide range of administration tasks on Hyper-V based virtualization environments. Topics covered include an overview of the VMM 2008 architecture, the installation of the various VMM components, the creation, management and migration of virtual machines, virtual machine template management, configuration of self-service portals, physical to virtual (P2V) conversions, user role management and much more.
Each topic area is accompanied by step-by-step tutorials that bring theory into practice.
Product Details
Page Count:
110
Page Size:
8.50 x 11.00
Language:
English
Format:
PDF
Price:
$8.99
eBook Contents
VMM 2008 Components
VMM 2008 Architecture and Port Usage
VMM 2008 System Requirements
Installing VMM 2008 Components
A Guided Tour of the VMM Administrator Console
Managing Hosts with the VMM Administrator Console
Creating and Managing VMM 2008 Virtual Machine Templates
Managing Virtual Machines with the VMM Administrator Console
Managing VMM 2008 Library Servers
Performing Physical to Virtual (P2V) Conversions using VMM 2008
Converting VMware Virtual Machines to Hyper-V using VMM 2008 V2V
Understanding and Configuring VMM 2008 User Roles
Deploying a VMM 2008 Self-Service Portal