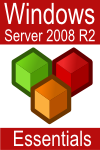 One of the most popular books on eBookFrenzy has been entirely updated for the R2 release of this operating system. Windows Server 2008 R2 Essentials covers a wide range of topics providing everything you need to know to install, configure, manage and maintain Windows Server 2008 R2 systems.. Whether new to Microsoft's Windows Server operating systems, or upgrading from a previous version of Windows Server, this ebook is designed to help the reader traverse the learning curve as rapidly as possible.
Topics covered in this publication include installation and upgrades, networking configuration, remote desktop services, disk and partition management, RAID configuration, security, BitLocker encryption, remote desktop adminstration, print services, resource sharing, clustering, load balancing and user permission management.
In addition to providing a detailed overview of the features and functions of Windows Server 2008 R2, this ebook also provides practical, step by step examples intended to bridge the gap between text book theory and real world practice.
This purchase includes the eBook in both PDF and ePub formats.
Product Details
Page Count:
278
Page Size:
8.50 x 11.00
Language:
English
Format:
PDF and ePub
Price:
$9.99
eBook Contents
Windows Server 2008 R2 Editions and System Requirements
Performing a Clean Windows Server 2008 R2 Installation
Performing a Windows Server 2008 R2 Upgrade
Windows Server 2008 R2 Command-line Tools
Configuring BitLocker Drive Encryption on Windows Server 2008 R2
Configuring Windows Server 2008 R2 Remote Desktop Administration
Adding New GPT and MBR Disks to Windows Server 2008 R2 Systems
Creating and Managing MBR Disk Partitions on Windows Server 2008 R2 Basic Disks
Creating and Managing GPT Disk Partitions on Windows Server 2008 R2 Basic Disks
Extending and Shrinking Windows Server 2008 R2 Partitions and Volumes
Creating and Managing Simple and Spanned Volumes on Windows Server 2008 R2
Creating and Managing Windows Server 2008 R2 Striped (RAID 0) Volumes
Creating and Managing Windows Server 2008 R2 Mirrored (RAID 1) Volumes
Mirroring Windows Server 2008 R2 GBT and MBR Boot and System Disks
Configuring and Managing RAID 5 on Windows Server 2008 R2
Windows Server 2008 R2 Remote Desktop Services
Installing Applications for Windows Server 2008 R2 Remote Desktop Services
Configuring RemoteApps on Windows Server 2008 R2
Configuring Windows Server 2008 R2 RD Web Access
Deploying a Windows Server 2008 R2 Remote Desktop Server Farm using RD Session Broker
Configuring a Windows Server 2008 R2 Remote Desktop Services License Server
Managing Windows Server 2008 R2 Disk Quotas
Repairing and Defragmenting Windows Server 2008 R2 Disks
Configuring Windows Server 2008 R2 File Sharing
Using NET SHARE to Configure Windows Server 2008 R2 File Sharing
Understanding Windows Server 2008 R2 File and Folder Ownership and Permissions
Auditing Windows Server 2008 R2 File and Folder Access
Configuring Volume Shadow Copy on Windows Server 2008 R2
Building a Windows Server 2008 R2 Network Load Balancing Cluster
Configuring Windows Server 2008 R2 DHCP Servers
Managing a Windows Server 2008 R2 DHCP Server from the Command Line
Setting Up a Windows Server 2008 R2 Print Server
Managing Windows Server 2008 Print R2 Services