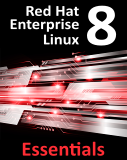 Red Hat Enterprise Linux 8 Essentials was published on June 6, 2019. The current revision is 1.0. The revision of your copy of the book can be found in the copyright page at the start of the book.
Known Issues with Revision 1.0
There are no known issues with this edition.