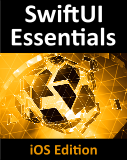 SwiftUI Essentials - iOS Edition was published on November 27, 2019. The current revision is 1.0. The revision of your copy of the book can be found in the copyright page at the start of the book.
26. A SwiftUI List and Navigation Tutorial
A bug was introduced into iOS 13.2 that causes the example code in this tutorial to crash with the following error on returning to the main screen after adding a new car:

*** Terminating app due to uncaught exception 'NSInternalInconsistencyException', 
reason: 'Tried to pop to a view controller that doesn't exist.'

According to Apple, this is a known bug in iOS for which there is currently no workaround. It will be fixed in a future iOS release. To try out the example, create a simulator running iOS 13.1 and use it to run the app.
If you have encountered an issue with the book not listed above please contact us as at
[email protected]
and we will work to resolve the issue for you as quickly as possible.